Differences in Electromyography during Self-Compassionate and Self-Critical Imageries According to the Level of Self-Criticism
Jana Koróniová

Institute of Experimental Psychology, Center of Social and Psychological Sciences, Slovak Academy of Sciences, Bratislava, Slovakia

https://orcid.org/0000-0003-4781-0900

Júlia Halamová

Institute of Applied Psychology, Faculty of Social and Economic Sciences, Comenius University in Bratislava, Mlynské luhy 4, 821 05 Bratislava, Slovakia

https://orcid.org/0000-0002-2655-2327

Zuzana Džongová

Institute of Applied Psychology, Faculty of Social and Economic Sciences, Comenius University in Bratislava, Mlynské luhy 4, 821 05 Bratislava, Slovakia

https://orcid.org/0000-0003-3473-3889
Keywords:
self-criticism, self-protection, self-compassion, electromyography, imagery
Abstract
The aim of this study was to analyze changes in muscle activity between high and low self-critical participants during the imagery of self-compassion, self-protection, and self-criticism. Muscle activity was measured by the Biopac MP36 while participants were listening to the imagery audio recording. Levels of self-criticism were measured by The Forms of Self-Criticising/Attacking and Self-Reassuring Scale (FSCRS; Gilbert et al., 2004). From overall number of 110 participants, 30 participants were selected for further analysis based on their extreme level of self-criticism. The research sample consisted of 15 participants with high level of self-criticism and 15 with low level of self-criticism. The results showed that participants with higher levels of self-criticism had similar levels of muscle activity during the self-critical and self-protective phases of imagery. However, during the last self-compassionate imagery, participants with lower self-criticism returned to the baseline EMG levels, while those with higher self-criticism remained at high EMG levels. The results showed lower muscle activity in low self-critics while imagining inner compassionate part meaning. Therefore, low self-critics are probably better able to calm themselves down compared to high self-critics.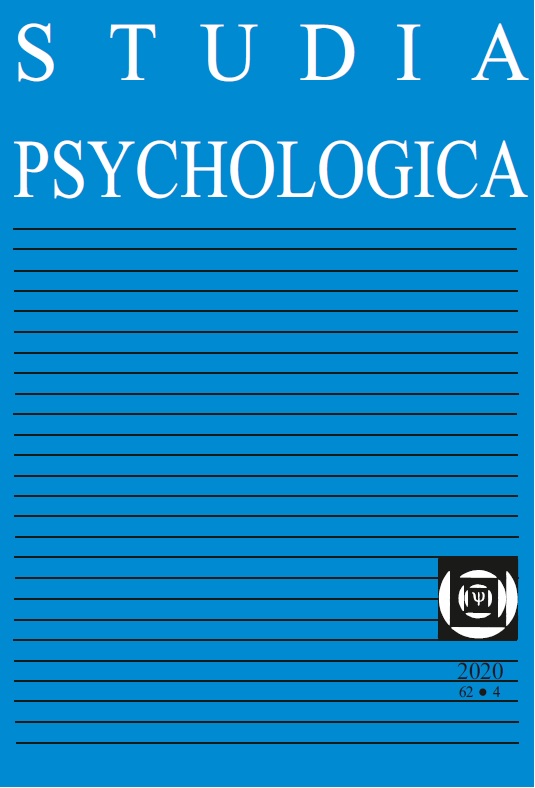 How to Cite
Koróniová, J., Halamová, J., & Džongová, Z. (2020). Differences in Electromyography during Self-Compassionate and Self-Critical Imageries According to the Level of Self-Criticism. Studia Psychologica, 62(4), 364-375. https://doi.org/10.31577/sp.2020.04.810
Copyright (c) 2020 Studia Psychologica
This work is licensed under a Creative Commons Attribution-NonCommercial 4.0 International License.