Cyberchondria and Questionable Health Practices
The Mediation Role of Conspiracy Mentality
Keywords:
cyberchondria, complementary/alternative medicine, pseudoscientific practices, conspiracy mentality
Abstract
Cyberchondria is a pattern of repetitive search for health information online, which has adverse psychological consequences in spite of its intention to relieve anxiety. This phenomenon is particularly relevant in the current pandemic accompanied by increased levels of uncertainty and fear, which can lead to increased volume of health information search on the internet, as well as cyberchondria. The first objective of this study was to test the factor structure, reliability, and convergent validity of Serbian adaptations of the Cyberchondria Severity Scale (CSS-12) and the Short Cyberchondria Scale (SCS). The second aim was to test the direct effects of cyberchondria on pseudoscientific practices (PSP) and the use of complementary/alternative medicine (CAM) as well as its indirect effects through conspiracy mentality (CMQ). The sample included 511 participants (73.6% women) from Serbia, from the general population. The results support the adequate alpha reliabilities and four-factor structure of CSS-12 and the single-factor structure of SCS, as well as their positive correlations with health anxiety (HAQ), internet addiction (IAT), and obsessive-compulsive symptoms (OCI-R Obsessions) and a negative correlation with self-esteem (a single-item scale). Additionally, the composite cyberchondria score had both direct and indirect effects on both questionable health practices. Our results revealed conspiracy mentality as one of the possible mechanisms through which cyberchondria is related to the use of PSP/CAM. It stems from distress related to cyberchondria and leads to an increased likelihood of adopting PSPs or CAM as a tool for maintaining a sense of control in an uncertain situation.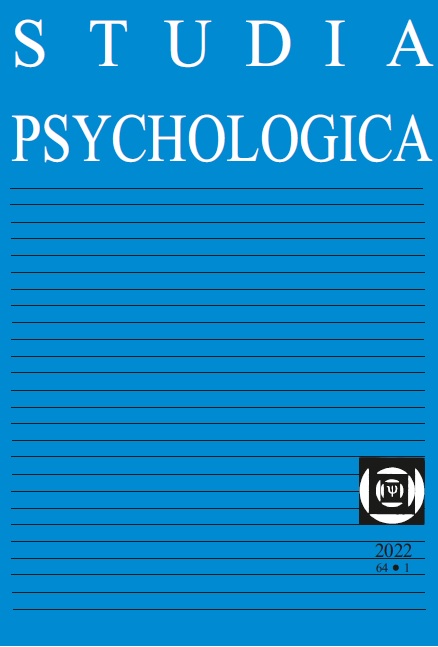 Downloads
How to Cite
Vujić, A., Dinić, B. M., & Jokić-Begić, N. (2022). Cyberchondria and Questionable Health Practices: The Mediation Role of Conspiracy Mentality. Studia Psychologica, 64(1), 104–117. https://doi.org/10.31577/sp.2022.01.842
Section
Special Issue: Psychological roots of questionable health practices
License
Copyright (c) 2022 Studia Psychologica
This work is licensed under a Creative Commons Attribution-NonCommercial 4.0 International License.